Ryan Craig enlisted in the Army on March 5 of 2008. He was soon deployed to Iraq, and seven months later returned safely to the States. Ryan's second deployment sent him to Afghanistan, where in his words: "We hit the ground running and were under fire daily." Ryan and his platoon had logged several safe returns from missions accomplished, but while out on patrol on November 19, 2010, the men were caught in a deadly ambush. In response to enemy fire, Ryan positioned himself to return fire and allow his fellow soldiers to get to safety. His selfless actions marked him as a target, and he sustained an injury that would change his life forever. Ryan's helmet was penetrated by a large-caliber round that fragmented, damaging both frontal lobes of his brain. His sacrifice would leave him severely impaired.
It was not expected that Ryan would survive. Following his injury, he underwent multiple surgeries to repair the damage he incurred, suffered three strokes and battled a life-threatening brain infection. After two years of rehabilitation he was able to have reconstructive surgery performed on his skull. Having proven time and again that he is a survivor, Ryan is now receiving treatment for thyroid cancer. Currently, Ryan lives with severe cognitive impairment and requires 24-hour care. At 29 years of age, Ryan's cognitive ability makes it challenging to navigate his day-to-day activities without assistance.
Ryan's family has set out to build a comfortable, safe home that will allow them to care for Ryan while providing him with the independence and quality of life he deserves. Jennifer and Ron Miller, Ryan's parents, have partnered with New Era Homes to make the construction and completion of this home a reality.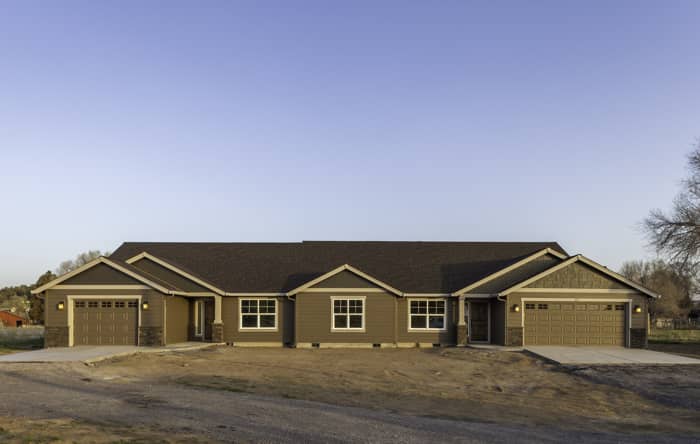 "It started because my son was injured in Afghanistan," Ryan's mother, Jennifer, explains. "We were going back and forth because someone has to stay with him. We decided to purchase some land and build a house that would accommodate all of us. We heard about New Era Homes through our realtor, Mary Doyle at Coldwell Banker. As soon as we met the builder, Todd McKinney, we knew we wanted him to build our home. He builds beautiful houses."
Jennifer continues, "New Era Homes helped us design the house and talked about things that we didn't even think about to make it more functional for Ryan and for us." The Miller's fully custom home is essentially two conjoined houses separated by a laundry room. The design would accommodate Ryan and his live-in caretaker on one side of the dual layout while Ron and Jennifer would occupy the other. The Craig's Heritage level home includes the Uncommon Standards that New Era Homes are known for plus added accessibility features like wider hallways and doors, a zero threshold shower, limited hallway length and easy to use door levers. Standard features like vaulted ceilings, upgraded appliances and fixtures and a top of the line HVAC system provide all the beauty and efficiencies that Ryan and his family deserve in their comfortable new home.
Ryan's family has exhausted their personal savings trying to create a more manageable and comfortable living situation for everyone. "Financially, it's a struggle," Jennifer describes about the challenges. "My husband's on disability. He had worked at Les Schwab for 40 years when he acquired an autoimmune disease called CIDP. It's kind of like Guillain-Barre. I almost lost him three years ago. He has some memory problems and fatigue, but he's still with us. With me taking care of both of them, I had to retire from my job as nurse for 40 years—which is fine. You got to do what you got to do. We now have a mortgage and it is a financial hardship because, at our age, you don't expect to be doing that."
"Technically, Ryan should get grants due to the severity of his injury," says Jennifer, "However, he has been blessed in that he can walk. Usually people with Ryan's injury don't survive at all, but because he can walk, he doesn't qualify for a lot of programs. We got a few donations from non-profit organizations to help us, but we paid cash for the land out of the money that we saved. So that's where we are."
Jennifer recalls when she was first notified about Ryan's injury. "I got a phone call at 5:00AM from the ground troops in Afghanistan that just said my son was injured. They didn't tell me how bad; they just said that it wasn't severe enough that I needed to come [to Germany]. They said I would get another call if I needed to come, but if I did, it meant the injury was severe and terminal." A few excruciating hours later, Jennifer received the call that said she needed to come for her son.
Upon arriving at the hospital in Germany, the medical consensus was that Ryan be removed from life support. But Jennifer hoped for a miracle and decided to bring her son home.
"We got him back to the States, and Christmas Eve Ryan woke up and looked at me and scribbled a little note on a piece of paper that just said 'Hi mom'. He had 5 months in a coma. I got to know there was still my boy in there. I did the right thing."
"He saved 22 men that day that were married and had children," Jennifer reflects on the life-altering day. "He knew they needed to come home, and that's why he did it."
Ryan's family started working with New Era Homes on their new home two years ago, and the builder has kept the original pricing in place over that span of time. New Era Homes is essentially building the home at cost. Several other organizations are donating in support of Ryan's cause including national sponsors from non-profits, local subcontractors and suppliers. "Even a dollar is helpful," Jennifer says. "We have to get our financing below a certain level so that our payments will be more affordable. We are trying to raise at least $40,000. New Era Homes has been trying to gather donations for the home, so a lot of companies are contributing to help us as well. Without that kind of help we wouldn't be able to get this project off the ground."
"It's been a wonderful experience," Jennifer says of working with New Era Homes. "Todd's whole team is pretty knowledgeable. Things we didn't think about, they thought about. We couldn't have asked for a better builder. He's gone above and beyond to help us. Getting our finances together was a struggle, and New Era Homes stuck it out with us. They haven't raised our prices even though it's taken us a year and a half to get our finances together."
New Era Homes, Ryan's family's partner in the design and construction of their ideal custom living space, builds semi-custom homes in communities throughout Central Oregon. Owner Todd McKinney was moved by Ryan's story. "Our goal from the very beginning," explains McKinney, "is to honor Ryan's service and immense sacrifice by helping build a home that is comfortable and safe for him as he faces the challenges that come with such a severe combat injury."
Other contributing companies include Salute, Inc., Parr Lumber, Consolidate Supply, Moen, Trobella Cabinets, Roofline Supply, Johnson Brothers Appliance, KitchenAid, Cascade Design Center, Globe Lighting, IKO Roofing, Gale Contractor Services, Continental Hardwoods, National Builders Hardware, California Door Company and Mary Doyle with Coldwell Banker.
To learn more about New Era Homes, visit www.newerahomes.com or contact Sales Manager, Trent Gardner, at 541-330-5463.
Donations for their home can be deposited into an account in Jennifer Miller's name titled Donation Account for Ryan Craig at any Washington Federal branch or mailed to Washington Federal, 1570 NE Third St., Prineville, OR 97754.

Photographer: Cheryl McIntosh | www.greatthingsaredone.com