Uncover the inside secrets of home building in Central Oregon
Wait what? The doorbell isn't included in the price of my home? 
Well, yes and no. It depends on the type of home you build.
In a Production Home: Yes, the doorbell is included…if you pay extra. If you don't pay extra, you can always hang a sign on the door: "Knock Before Entering."
In a Custom Home: Yes, a doorbell is included. It's decorated with imported Italian ceramic and comes with a custom recording of the Vienna Boys Choir. (Get your wallet out.)
In a New Era Home: Yes, a beautiful doorbell is always included. (Concealed doorbell chime, also included.)
And this is just the beginning. The disparity in the quality of new homes in Central Oregon varies even more than the prices, as we shall soon uncover…
Small Details, Huge Difference
So, how much house does your money buy in Central Oregon these days?
That's a good question. Answers vary more widely than you might expect. And when you say "house" you do mean the doorbell, too, right?
Do you also mean wide entry and hallways, 36"-high countertops, ¾" hardwood floors, vaulted ceilings, triple-pane windows, build-in linen closets, designer pendant lighting, etc., etc., etc.
Now you're getting to the heart of the question.
To answer this for you, I compiled a comparison of three similar houses in similar areas of Bend, Oregon. At least…these houses are similar in their footprints. When you look under the hood, as they say, a whole new story reveals itself. Let's take a peek, shall we?
The Good, the Bad and the Gap in Between
Production Homes: The cheapest way to build a new home in Central Oregon is to use a  "production" home builder. These homes are known in the industry as "cookie-cutter" houses. You get a selection of floor plans to choose from and a list of a la carte options you pay extra for.
Production home builders crank out about as many as 2,000 houses per year in Central Oregon and beyond. They use average materials and have a reputation for being hard to get a hold of when you need them. Buyers pay $90-$185 per square foot for a production home.
"Semi-custom builders are harder to find, in greater demand,
and are experts at building more home for less money."
Custom Homes: The most expensive way to build a new home in Central Oregon is to use a custom home builder. Custom builders use the highest quality, handpicked materials, they have high-touch buyer support, and they design showcases of the eclectic and the extraordinary.
In Central Oregon, a custom home builder will create fewer homes, as few as two or three per year, but have a much greater markup per home. Buyers typically pay over $300 per square foot for a custom home.
This creates a pretty big gap. If only you could get the quality of a custom home for the cost of a production house…
New Era Homes: The smartest way to build a new home in Central Oregon is to use a semi-custom home builder. Semi-custom builders are harder to find, in greater demand, and are experts at building more home for less money.
They use the highest quality, handpicked materials, give high-touch buyer support and build an average of 24-30 homes per year. They offer the best value, best investment and most equity out of the gate. Buyers typically pay $115-$185 per square foot for a New Era semi-custom home.
As a semi-custom builder, New Era Homes is small enough to know each and every one of their clients personally and yet large enough to benefit from bulk purchases and pass those savings on to their buyers.
Inside Secrets
Semi-custom home builders are known for being tight-lipped about their inside secrets. But Trent Gardener at New Era Homes gave me a terrific sneak peek at their work. (Here's where their 176 "uncommon standards" come in.)
New Era completed their model home just in time for the 2019 COBA Tour of Homes. And it is stunning…from the wide entryway to the hardwood floors to the kitchen island and marble countertops to the stone-surround fireplace to the inset decorative tiles in the shower and vanity backsplash.
Not to mention all the hidden upgrades you don't see, such as the high energy efficiency heating and cooling systems, triple-pane windows and other "green" building features.
A Look Under the Hood
New Era Homes offers 176 Uncommon Standards in their semi-custom homes: 47 exterior, 44 interior, 37 in the kitchen, 28 comfort/green standards, 17 in the bathrooms, and more extra value standards.
Let's take a peek at a few of these, shall we?
Kitchen
Island trim detailing w/furniture legs
Soft-close European hidden door hinges
Enclosed refrigerator cabinet panel
Reeded glass in pantry door
6" ceramic tile backsplash
Designer pendant lighting
Slab granite countertop
Designer cabinet pulls
Under cabinet lighting
Oversized eating bar
Living Room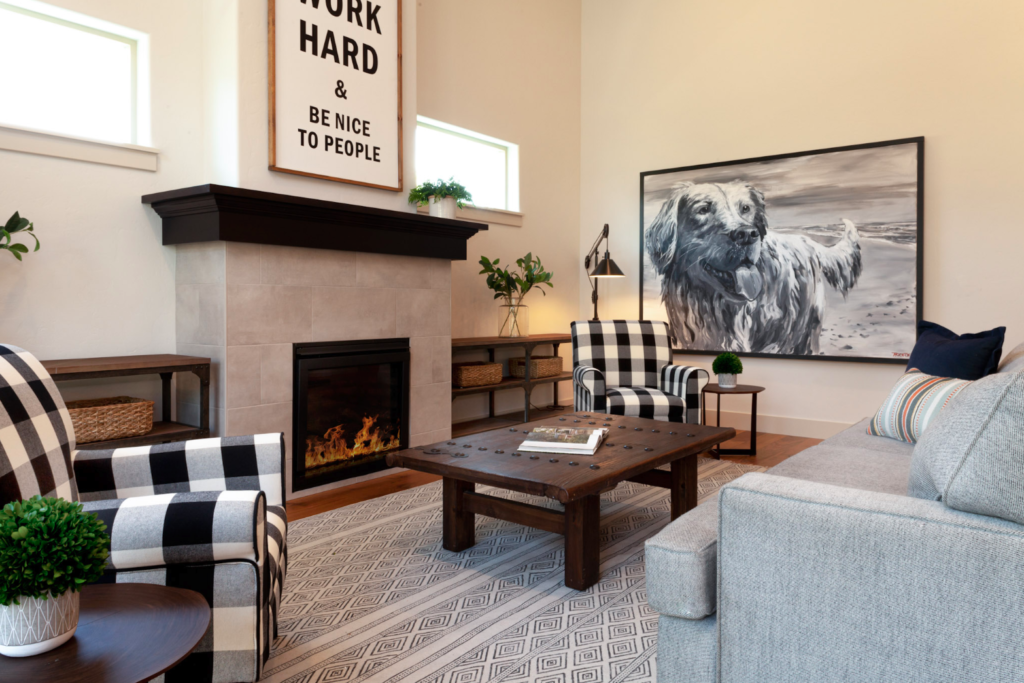 Gas fireplace with stone tiles
Hand troweled sheet rock
Tall triple-pane windows
Hardwood floors
Vaulted ceiling
Study
Glass door
Hardwood floor
Rounded drywall corners
5¼" base trim
Bathroom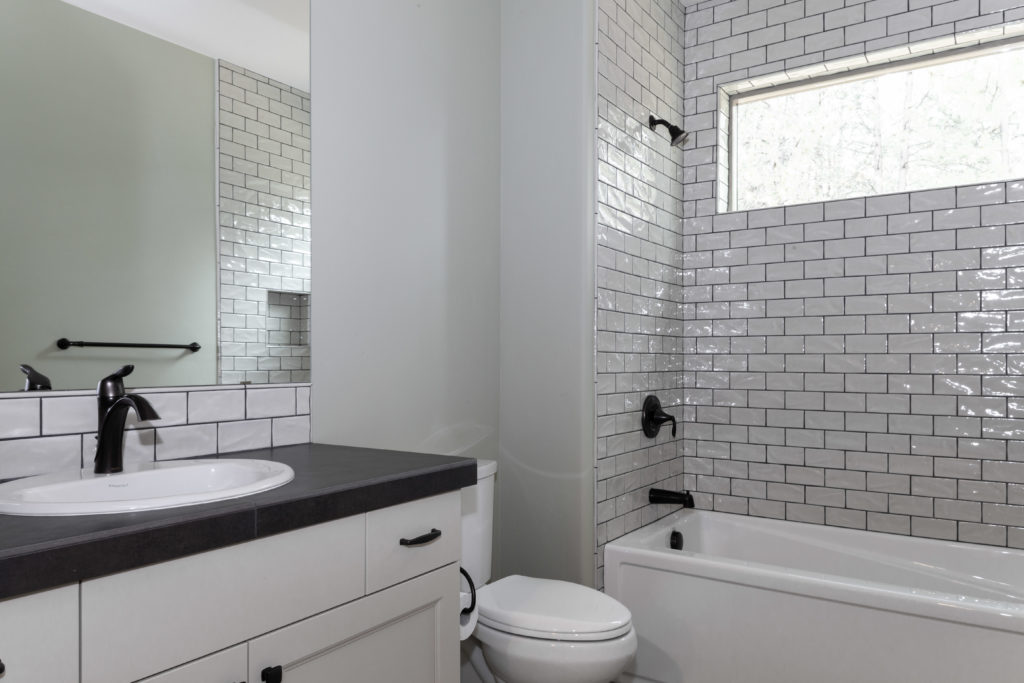 5' subway tile in the shower
Heavy-duty glass shower door
Two sinks in master bath
Timer controlled bath fans
Soft-close toilet seats
Comfort height toilets
Elongated toilet bowls
Moen "Eva" solid brass bath faucets
Tile vanity countertops
Tile backsplash w/ accent tiles
Aha! Moments
You find discoveries like these all throughout this house.
Here's one of my favorites: The laundry room has recessed receptacles for the hookups and vents that let your washer and dryer sit flush against the wall. Why didn't someone think of that sooner!? We all know that the gap behind appliances is a Black Hole for stray socks, popcorn and lint, right?
With a little ingenuity, and the willingness to go one step further than the rest, New Era is building value like this throughout their homes.
Stop in and see the New Era model home (#24) on the COBA Tour of Homes July 19-21, 2019.
There are 147 more Uncommon Standards in this home that I didn't list here. Learn more about how New Era gives you more home for less money at www.newerahomes.com.
Better yet, stop in and see the New Era model home (#24) on the COBA Tour of Homes July 19-21, 2019. You'll be most heartily welcomed.
Just ring the doorbell.
Copy by Kyla Merwin
Images by Cheryl McIntosh Photography